specs
policy
Ask a Questions
Gemstones Clarity
Very Lightly Included
Setting
Prong & Micro-Pave
Length: 2in Width: 1.45in
Pink Sapphires= 2 carats
Diamonds = 1.50 carats
Please allow 7 to 10 business days for manufactoring. Contact a representative at (212)391-3832.(30)
TraxNYC specializes in Diamond Pendants and can create a custom Pendant for you using the materials and quality of diamonds of your choice. Making for an amazing gift as we have said, this Pendant from the TraxNYC specialty collection sparkles with 1.50 ct of Round cut diamonds. You won't go wanting with this piece! TraxNYC is a leading retailer of Diamond Jewelry collection in the heart of New York's famous Diamond District. When you buy this Pendant from us for an unbeatable price, you can be sure you are getting the best deal out there.



This item is currently out of stock.
If you would like to custom order
this, please contact a customer rep!
Ladies Pink & White Chai Pendant 1.50 ct
(FILE MUST BE SMALLER THAN 5MB)
This item is currently out of stock.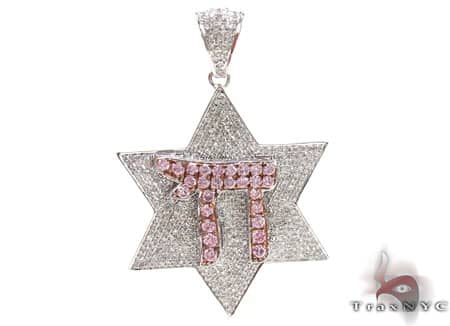 94083
OUR MERCHANDISE IS 100% GUARANTEED AS DESCRIBED OR FULL MONEY BACK