specs
policy
Ask a Questions
MADE IN NYC - 6 month warranty
Known and respected throughout the jewelry world, TraxNYC is here to offer you the highest-quality Mens Diamond Bracelets at the lowest prices possible. This piece sparkles in the faintest light with 7.00 ct of Round cut rocks. Check this piece out if you want to stand out from the crowd in any setting. The stunning 10k Black Gold in this Bracelet with a weight of 34.00 grams is sure to wow him or her and will make the perfect gift for any occasion. You can't fail to be amazed by the Diamond Jewelry that we make available to you at TraxNYC. Don't pay extortionist prices from other jewelry retailers -- TraxNYC is your number one every time.
Bank Wire Price:
$1,754.03
OR

Black Diamond Prong Bracelet 7.00 ct

(FILE MUST BE SMALLER THAN 5MB)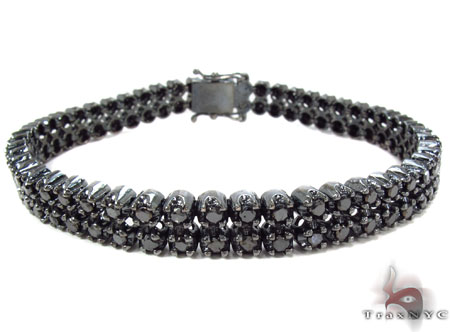 Q:
Hi, I currently in Afghanistan(military), and I want to buy ITEM#:30988 ASAP. How fast can you get this item to me?
01/25/2013
A:
If you can give me a call i can take your order and i can try to have this to you in about 4-5 days.
608314
OUR MERCHANDISE IS 100% GUARANTEED AS DESCRIBED OR FULL MONEY BACK