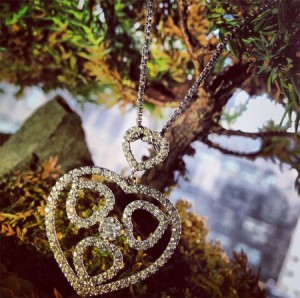 One of the most symbolic items of jewelry throughout the course of history, heart shaped pendants have never lost their charm, charisma and elegance. Diamond heart pendants have continued to symbolize a depth of meaning; dangling on chains or cords, they have been used to ward off evil spirits and more widely, to show love and affection for a deity or person.
Over the years, pendants and, more specifically, heart shaped pendants have been offered to gods, lovers, or worn as good luck charms. Pendants discovered in ancient burial sites by archaeologists have been found to be made of shell, metal or gold. However, in today's modern age where the glint of diamond speaks volumes for an individual's style, status and taste, diamonds are the material en vogue.
The symbol of the heart which in modern times automatically generates images of love and adoration between two people has progressed, developed and transformed over the years. Starting out as a symbol associated with sex in 7th Century BC, it eventually morphed into a symbol of grief in the Victorian era with locks of hair, pictures and other mementos being placed within heart shaped pendants to show grief for loved ones who passed away. Gradually, it grew to fit a much vaster definition of love representing different kinds of love depending upon the situation. Today, heart shaped pendants are used for courtship between lovers, channeling romantic love, between two friends to show their love and affection, between children and parents to symbolize parental adoration and various other occasions.
Modern heart pendants are manufactured in various styles, designs and precious metals but diamond heart pendants definitely overshadow all the rest. Diamond heart pendants are available in various colors ranging from the classically transparent to black, red or even blue. Other factors to consider when purchasing a diamond heart pendant are the clarity and caratage of the diamond pendant which causes the price range to vary. TraxNYC is a jewelry company based in New York and specializes in diamond jewelry. Whether you need advice on what kind of diamond jewelry you can  go for within your budget or you are looking for options, the highly trained TraxNYC staff can always be of assistance. One of the most secure diamond jewelry websites online today, TraxNYC is definitely one of your best and safest options to purchase diamond heart pendants. To look at designs and options available in diamond heart pendants go to TraxNYC.