The Evil Eye jewelry collection is the latest addition to the already extensive TraxNYC jewelry repertoire. These luxurious 'good luck' talismans have eternally fascinated and intrigued humanity and their history can be traced back thousands of years. With such an illustrious history, it is no surprise that they still retain their popularity to this day.
We carry all kinds of Evil Eye Jewelry, with diamonds and without. These elegant pieces will not only ward of bad luck (if you believe in the tradition!) but will also look great – what a combination.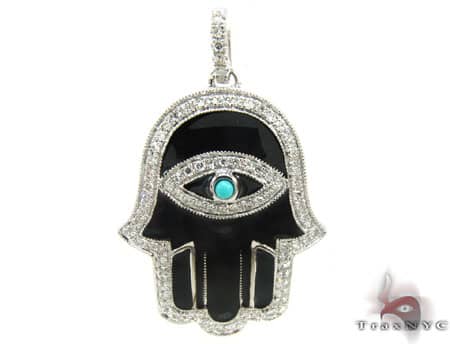 One of the most popular designs right now is the Hamsa Pendant, a palm-shaped amulet intended to defend against the Evil Eye. Our 1.7ct Baguette Hamsa Pendant is a truly beautiful specimen crafted from exceptional 18k white gold with a blue sapphire 'pupil' – it shouldn't be missed out on at the incredible price of just $1620.
Don't miss out on this unique collection which melds a respect for tradition with the latest jewelry style. That's Evil Eye Jewelry from TraxNYC.