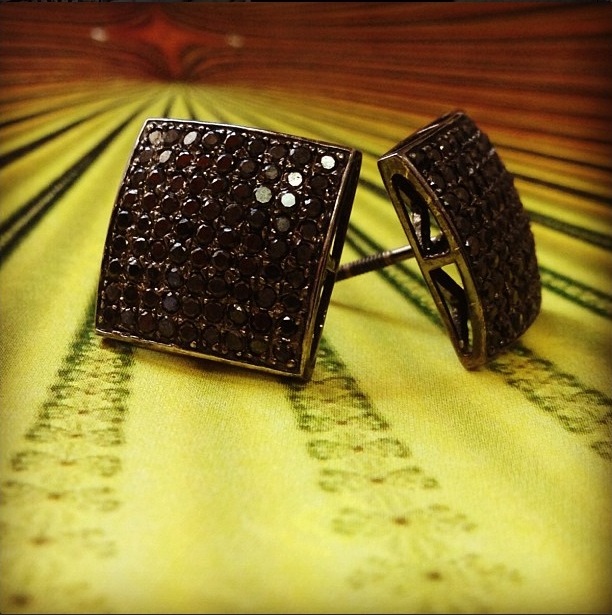 Black diamond earrings for men are an attention grabbing accessory that will help you make a bold statement. The Black Diamond also referred to as "Carbonado" is an exotic and unique type of diamond that has its own air of mystery. Black Diamond Earrings will add an aura of intrigue and enigma to your look. The bold sparkle of Black Diamonds has to lead to an increasing demand in the industry and black diamond earrings are fast becoming a must-have fashion accessory. Diamonds are no longer restricted to the wardrobes of women and have become a top rated item in men's fashion.
When deciding to purchase Black Diamond Earrings there are many options of where to buy from. One can go the traditional route of making the rounds of jewelry shops which can be a long and tiring escapade. With online jewelry stores you can browse through a myriad of possibilities and finalize an order within minutes. TraxNYC is a business that features an online store. Specializing in diamond jewelry with more than a decade in the business, we feature a stunning men's black diamond earring collection with the added option to order a custom made piece.
Out of all the colors to choose from, black is preferred for many reasons. The exotic thrill of owning this extraordinary diamond is a wonderful feeling. Buying diamond jewelry can certainly be a daunting task; these rare stones don't come cheap. Before buying a pair of black diamond earrings it is essential to take a variety of things into consideration. The cut and size of the earrings, and the metal are very important for the final look. Perhaps the most classic and popular cut is the brilliant round cut. The square cut seems to be quite in vogue when it comes to celebrities, especially in the hip hop scene. Adding a little bling to your outfit can certainly help you make a sparkling statement. Besides these two frequently favored choices there are a hoard of other shapes to choose from so don't feel like you're limited while making your decision.
Choosing the metal for your earrings is also a factor to take into account. There are a variety of options to choose from such as White gold, Yellow gold, Sterling silver etc. and they all have their own charm. The final decision varies depending on personal preferences.
We at Trax pride ourselves in giving our customers not merely jewelry but something  to treasure. So check out our black diamond earring collection here and get yourself a piece of midnight magic that will be the answer to your dreams.