Yellow gold, Rose gold, White gold, oh my! Let me start out by saying I LOVE GOLD. My preference you ask? White gold. Who doesn't love white gold?!
White gold goes with everything and it is just so darn chic! One of the reasons why I adore white gold is because it is so effortless; it's sure enough to put the finishing touches on any outfit. Today I see a lot of people wearing yellow gold because to be honest it seems to be the trendier of the two at the moment.
I'm not going to lie, yellow gold has a spot in my heart, but when I think of diamonds, I really can't picture them being set in anything else besides white gold. That is just my personal opinion though, and I am entitled to my personal opinion! Diamonds set in a white gold setting just gives off such a classic, timeless vibe and I'm sure a lot of women would agree with me.
White gold is a combination of yellow gold mixed with an alloy to make white gold. Sometimes nickel is used as the alloy but as unfortunate as it is, there are people who are allergic to nickel, causing them to break out in a rash. How horrible!
Even though allergies may be the reason keeping some people away from white gold, price has also been an issue over the last few years. People have been holding back from purchasing white gold goodness these days and it breaks my heart because let's be honest, white gold is too beautiful not to have. Thankfully, for the sake of everyone's pockets, TraxNYC has the widest selection of white gold jewelry for amazing prices. Hint, hint, ladies and gentlemen! Valentine's Day is right around the corner!
Speaking of Valentine's Day, I know exactly what I'm asking for…
I'm slightly obsessed with this tennis bracelet and by slightly I mean that I am completely head over heels in love and if I do not get this as a Valentine's Day gift this year I might cry a river, or five!
This drop dead gorgeous tennis bracelet holds a whopping 11.00 carats of round cut, white diamonds in a prong setting. Beautifully set in…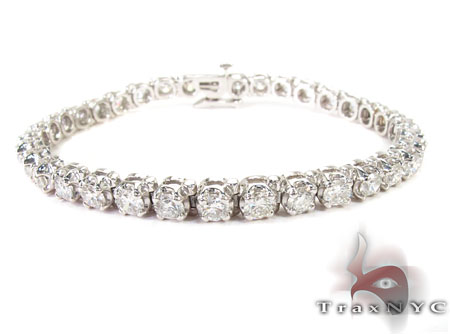 Wait for it…
Wait for it…
WHITE GOLD!
Seriously, if I were to die today with this bracelet on my wrist, I will consider my life well-lived.
Valentine's Day is supposed to a day of love and affection. Honestly, I can't possibly think of any other way to show someone you love them other than picking up some of our amazing white gold pieces of jewelry. I mean, if a stunning piece of white gold jewelry from TraxNYC doesn't say I love you, than what does?