If you know anything about mens diamond bracelets, then you know that understatedness is not in their DNA. As opposed to womens jewelry, which is often worn in an inconspicuous fashion, mens jewelry is all about showing off and being seen. This is especially so when it comes to diamond bracelets. I mean, who wears diamond jewelry and doesn't want it to be seen?!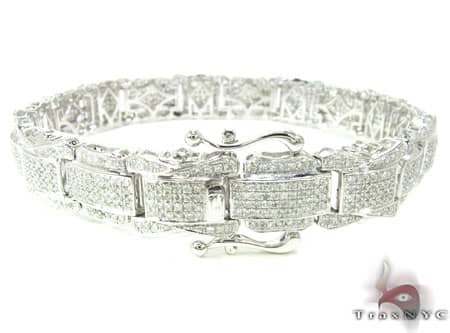 Mens diamond bracelets have skyrocketed in popularity over the past decade or so, and that's down to one specific trend. Can you guess what we're going to say that trend is? Of course you can – it's hip hop jewelry. Rappers and other superstars of the hip hop scene have made it acceptable for us men to express ourselves confidently – sometimes to the point of arrogance in the case of some rappers we can think of.
But it isn't arrogance or egocentricity that drives people towards diamond bracelets – its the diamonds and gold, of course. When you see a glittering array of rocks on someone's wrist, you can't help but be impressed, even mesmerized by the effect. If you want to stand out from the crowd, if you want to get noticed, there's no better option than mens diamond bracelets, simple as that.
To complete your look and add some balance to those wrist rocks, a diamond bracelet pairs up great with other mens jewelry specialties like earrings and chains. All of this awaits you at TraxNYC right now, so you should start browsing our unrivaled selection of jewelry today and show the world what you're all about!