As we move out of 2010 and into 2011, the first year of the decade has almost come to a close. It makes you wonder what, come 2020, we will look back on as being some of the defining moments of the previous ten years. A modern phenomenon, there is always some new trend or fad that dominates our culture for a few years and then dies out completely as a new decade dawns.



Whatever the fads and trends of the future may be it is impossible for us to say. But we aren't here to talk about short-term trends and one-hit-wonders, we are here to talk about some pop culture trends that don't ever look like dying out. Hip hop music and hip hop jewelry have dominated the cultural horizon for decades and it looks like they will continue to do so for years to come.
More than just a trend, hip hop jewelry has been growing steadily since its inception and is now accepted as one of the dominant icons in our society. It has moved into the mainstream and is now more popular than ever. Specialists in hip hop jewelry, it is fitting then that our latest TraxNYC custom jewelry creation comes from one of the most popular and long-lasting TV shows ever created.
South Park is a show that truly never gets old. It is always on top of the latest cultural topics and big news stories as it works hard to make fun of them relentlessly. Probably the funniest animation ever made, it has been going strong since 1996 and its popularity is showing no sign of letting up any time soon. It has become as famous as The Simpsons and is now regarded as being a far better show as the quality of the other has begun to slip over the last few years.
South Park's success and staying power mirrors that of hip hop jewelry itself. So we have stepped forwarded and combined the two in the stunning custom South Park Pendant! Showcasing an incredible THIRTY-NINE carats of multi-colored diamonds of the highest quality, this is one of the wildest pieces ever created – and not just by TraxNYC, but by anyone.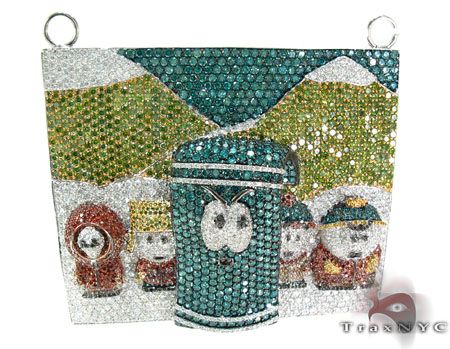 The pendant is based on the four main characters who we're sure you all know – Kenny, Kyle, Stan and, of course, Cartman. It also features another famous member of the South Park 'cast' ¬– Towelie, the lovable, pot-smoking, talking towel! Probably one of the funniest recurring characters on the show, we think it's fitting that he takes his place on this iced out custom piece.
The South Park Pendant is just one of a long line of amazing custom pieces created by TraxNYC Custom Jewelry. We can make any piece using your designs and to your specifications – we really can make your diamond jewelry dreams come true. Don't miss out on the chance to own a truly unique piece of jewelry, start building your custom creation with TraxNYC today!