Shown below is a picture of hip-hop star rapper/producer, KANYE WEST wearing the Wood Jesus Piece Necklace while performing. You can purchase yours from TraxNYC.com for only $18click here for our wood jesus collection.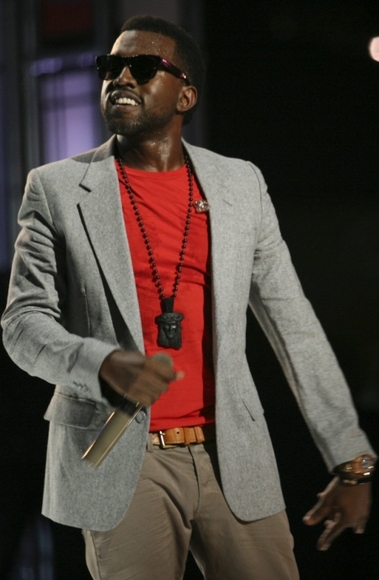 As of last October, The Good "Wood Jesus" Necklace is a recent creation from a company based in New York City. It is a natural piece of jewelry which is avaliable in maple and natural colors. The "Wood Jesus" Necklace has a handcrafted JC pendent and comes with a complete 30-inch beaded chain made out of wood that matches the wooden jewelry. Since coming out in October 2009 at $50 a piece, the "Wood Jesus" Necklace gives customers jewelry that is practical, cheap and made out of genuine material. So, while everybody else is keeping it "HOOD", the "Wood Jesus" Necklace makes you keep it "WOOD" which is something interesting and unique.
Additionally, the "Wood Jesus" Piece and Necklace connects to hip-hop jewelry and culture. "Wood Jesus" also has the finest and best materials included in its jewelry pieces so that a masterpiece can be created at the end. Hip-hop jewelry also has the most finest jewels and diamonds in their pieces and products. Celebrities from Jay-Z, Kanye West to Tiger Woods and many more have been caught wearing the "Wood Jesus" Necklace in different public places.
To get a better idea, check out an image of the Wood Chain Piece and Necklace. The colors avaliable from our website, TraxNYC.com are: Brown, Black, Yellow, Gold and Red.
Wood Chain Necklace: