Diamond earrings have been a hugely popular hip hop jewelry item since the inception of the trend a number of decades ago. However, lately they have been becoming increasingly popular and are one of our best-selling item categories here at TraxNYC. Nowadays, if you find yourself partying at a club for example, you better be rocking some diamonds in your lobes if you want to keep up with the hip hop trend – you don't want people thinking you're a nobody!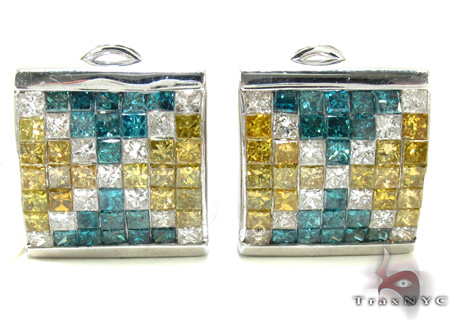 Nothing surpasses a shining pair of diamond earrings, especially when they are set in the hip hop jewelry style. You could have earrings made from the purest gold in the world, but they would look nothing next to set of intricately set invisible or pave set diamond earrings.
At TraxNYC we know that the perfect earring is one with the right mix of high quality stones and metal, and that is why we stock one of the largest selections of high quality diamond earrings you will ever see. Our hip hop jewelry earring collection features single diamond studs, solitaires, pave and black diamond earrings.
We have mens and womens diamond earrings to suit all tastes and budgets. Whether you are looking for a birthday gift, a hip hop jewelry masterpiece or just something special for yourself, you won't fail to find the perfect pair of diamond earrings at TraxNYC. With a top quality selection of single diamond earrings and black diamond earrings, you can get top quality pieces for less.
Remember we are a top NYC Diamond district jewelry store and wholesaler and we can offer you prices that no other store, online or on the street, can offer you. We do custom work and, as we have said, our Hip Hop Jewelry selection is unrivaled. Don't settle for less, once you try TraxNYC it will soon become your first choice for jewelry, every time. Check out our full collection today.