More trends that pertain to mens diamond rings are here. As far as any mens ring TraxNYC has to offer nothing beats the freeze premier ring as seen in the image below.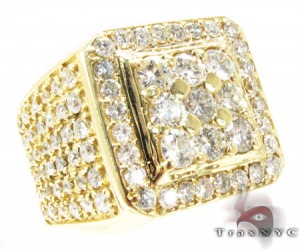 This ring is made in three variations of which the newest can be found here. Almost 6ct, large diamonds at the head of the ring, 20 grams of gold and diamonds on the side make this ring another super deal. Thats why we call it the "freeze premier ring", its iced out fully freezing your finger, and out of all of our 2 thousand luxury rings its premier ring because dollar per dollar this mens ring is the greatest value and gold and diamond investment out on the mens diamond ring market today.
Well, that was all about value style and price, but if your not shopping for your dollar and shopping for your mens ring then i would recommend this:
http://www.traxnyc.com/Mens-Rings-Mens-Diamond-Rings-Army%20Ring-item11709.html
I don't understand why someone has bought this insane deal but i hope they don't. With all that gold and that diamond quality with princess set diamonds i want to buy it myself and i work here! Bottom line, TraxNYC is the King in the mens diamond ring market, just see our selection for yourself.
Remember TraxNYC defines the Hip Hop jewelry diamond ring trend. Our selection flys over the heads of any other retailer wholesaler or manufacturer. But if for some miraculous reason you cant find the mens diamond ring of your choice on our site, take a step into the custom jewelry section and make your own just like the ring you see on this link.