With just a week to go until Halloween, we wanted to show you some of our seasonal diamond jewelry specialties at TraxNYC. We have an unrivalled selection of diamond jewelry available to you at the best prices on the market. That allows us to house some great fun Halloween pieces for you to choose from – but of course they're not just fun, they're diamond jewelry masterpieces too.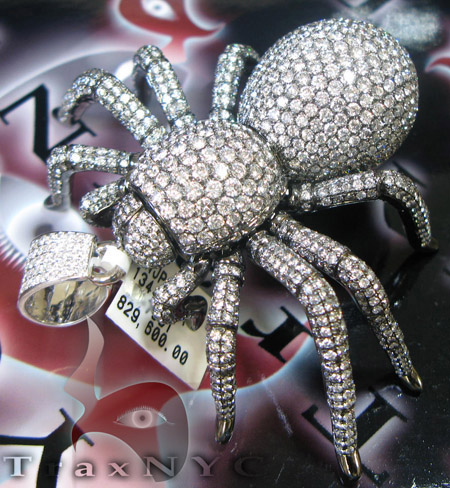 The XL Black Ice Spider pendant features 20.08 ct and is one of TraxNYC's finest additions to our high end diamond jewelry collection. With its fabulous VS quality diamonds that are F-G in color the piece is guaranteed to shine without any light. The true one-of-a-kind design is made of 18k macro-polished solid black gold, for a very rare, exclusive look. Everything from the legs to the top of the body of this beautifully made spider piece is fully covered with superb, pave set, round cut VS diamonds, guaranteed to stun onlookers. So if you want to scare and impress everyone at the same time this Halloween, check this crazy piece of diamond jewelry out.
Skull pendants have taken the hip hop jewelry and diamond jewelry world by storm of late and they are the perfect diamond jewelry accessory for you this Halloween. We have skull pendants in all price ranges, but one of our sickest and scariest looking is the 9ct Hip Hop Crazy Skull Pendant. The diamond quality in this stunning piece is AAA SI-VS2 that showcases G-H and black and ocean blue diamonds to achieve a sick look that no other piece can. The crossed swords entering the skull of this diamond jewelry work of art serve to apply a chilling finishing touch to it.
To finish our Halloween showcase, you have to take a look at this crazy Black Diamond Death Pendant. Imagine the looks on your friends' faces when they see this eerie piece of stunning diamond jewelry craftsmanship around your neck!
So get on to TraxNYC today and get satisfy your lust for diamond jewelry this Halloween!