For many people, gone are the days when a man could spend $20,000 – $30,000 on an engagement ring for his wife to be. With little or no access to credit and unemployment eternally on the rise, it's simply an expense too far for the majority of couples these days. But today we want to show you that there is no need to despair, TraxNYC will have you set up with a beautiful pair of cheap diamond engagement rings, and we guarantee you will cherish them as much as anything you would have spent three month's wages on. Best of all, choosing to buy cheap diamond engagement rings will leave you with more money to spend on a wonderful wedding and honeymoon – that's the most important part after all.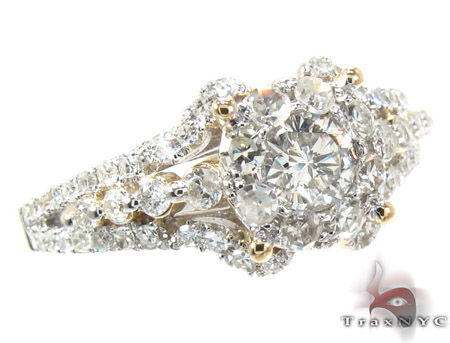 At TraxNYC we have an unbeatable selection of cheap diamond engagement rings. Balancing out our more high end pieces, these low budget alternatives offer high quality at a low price. They are not at all "cheap" in the traditional, derogatory sense; in fact they only contain the best gold and diamonds suited to their grade. We make them so inexpensive because we pass the savings on to you, the customer, rather than doubling up on our profits like most greedy jewelers out there would do.
Added to that, these high quality diamond rings are manufactured using cost-saving manufacturing techniques and alternative ethically-sourced materials to bring down their overall value, but they still look as great as wedding jewelry that is up to ten times as expensive. For instance if you opt for 10k gold over 14k, or even 14k over 18k, you will notice a significant difference in price, while only a well-trained eye will ever notice the difference in quality. The same applies to diamonds – drop a couple of grades from VS to SI1 and you will save big time. Even better, make the most of a current hip hop jewelry trend and go for a black diamond engagement ring!
The TraxNYC collection of anniversary rings and cheap diamond engagement rings simply cannot be rivaled. We have diamond engagement rings that range in price from $210 all the way up to $100,000 and beyond. Don't let financial woes stand in the way of love ever again. Cheap diamond engagement rings from TraxNYC will set you on your way to a wonderful life together, and save you a few bucks for what will no doubt be a once-in-a-lifetime wedding bash too!