We are living in a time in which the economy is struggling to pull itself back together, having fallen to its lowest depths since the days of the Great Depression. As a result, weddings can be an expense too far for the budgets of many young couples. But it doesn't have to be that way, if you make use of the best money-saving tips and buy cheap diamond engagement rings, as opposed to the high end rings that have traditionally been associated with the act of "popping the question."
At TraxNYC we have an unbeatable selection of cheap diamond engagement rings. Don't get us wrong, we have just as many high end pieces too, but those speak for themselves and need no introduction. It is our bank account-friendly options that we would like to highlight today, because we want to make potential customers aware that these cheap diamond engagement rings aren't at all "cheap" in the conventional sense.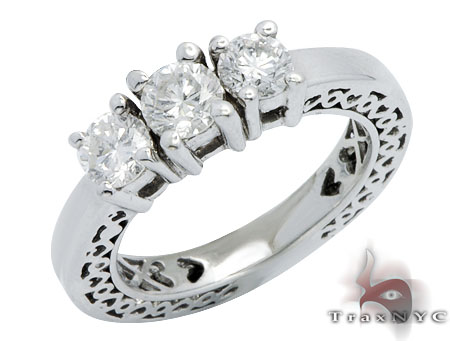 That is to say, they are in fact high quality diamond rings that employ cost saving manufacturing techniques and alternative materials to bring down their overall value, but still look as great as wedding jewelry that is up to ten times as expensive. With the use of less expensive materials such as silver and 10k gold, as well as low carat and/or black diamonds, we can offer fully realized cheap diamond engagement rings that will stand up superbly, even when next to the best.
For anniversary rings and and cheap engagement rings, you really can't go wrong with the TraxNYC selection. We have diamond engagement rings that range in price from $210 all the way up to $100,000 and beyond. So whatever you have in your bank account, don't be afraid to make a permanent bond with the woman – or man – you love. Our cheap diamond engagement rings are made from the best materials in their grade, so they will last the duration of your relationship, which will hopefully be a long and happy time for you both!