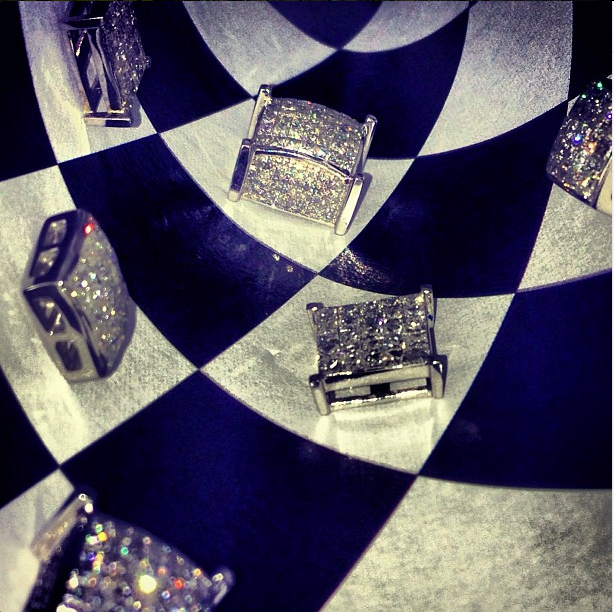 Out of several choices in men's jewelry, Diamond Earrings for Men are one of the most frequently chosen accessory. Men have been wearing earrings for centuries. Over the years the popularity trends for men's earrings have gone up and down. Men wear earrings for many reasons, some use it as a means of standing out and lending an aura of charisma and confidence to their look. In many cultures wearing earrings is buried in tradition and considered a symbol of status and social standing. Others wear them to freely express themselves.
When choosing earrings one of the most current and popular choices are a pair of diamond earrings. Diamond earrings  portray an image of bold masculine charm, a way of showing off your personality. They can add a hint of rock and roll to your ensemble. Celebrities like Usher, Marc Jacobs and Justin Bieber have made Men's Diamond Earrings  a hot fashion accessory.  Diamonds are the most rare and beautiful in jewelry. Regardless of gender people love the feeling of donning a pair of brilliant diamond earrings. There's nothing like a pair of diamonds to put you in the spotlight. Diamond earrings  represent not just a fashion choice but a lifestyle.
There exists some confusion about how to wear diamond earrings for men. Many men prefer wearing earrings in one ear only, perceiving two earrings as feminine, but like anything else it is a matter of personal preference and lots of men wear them in both ears. Some stores only sell them in pairs and this can be a great way to keep a backup in case someone loses one.
There are a multitude of options available when choosing a pair of diamond earrings. A person can choose from various different shapes, sizes, colors and styles. The different shapes to choose from are round , rectangular or square and triangular. Perhaps the most traditional and classy choice out of these is the square or princess cut which can be an eye-grabbing addition to any outfit. Taking into account the size of the diamond is also important, while a smaller stone might be the safest option and can be a subtle accessory, wearing a pair of large diamond studs can be an opportunity to make a bold and daring statement and flaunt your confident personality. Choosing the color of the diamond is also essential. Black and white are the classics and equally dazzling choices however choosing a bold shade can add a splash of color to your outfit. The brilliant scarlet of a ruby or green hue of an emerald can be the perfect addition to compliment your ensemble. Other than this when choosing diamond earrings there are a whole bunch of styles to choose from and you can go for studs, hoops or choose from all the other available possibilities.
At Trax, you'll find all manner of diamond earrings for men, in the latest styles and looks. Take a peek and browse our collection of mens' diamond earrings.