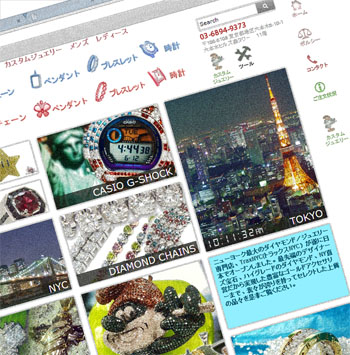 Our Japanese Website is Live!
TraxNYC is pleased to announce the launch of our new Japanese site.  That's right, we are expanding, and our first stop is the exciting and electric city of Tokyo.  The Japanese have been loyal clients of ours for quite some time, and we wanted to show them how much we appreciate their business.  The new website is primarily in the Japanese language, shows prices in yen, and features products specifically geared to Japanese culture and traditions.  It also features its own Tokyo-based customer service department, to make the experience smooth and seamless.
Japan is well known for its innovative and edgy style, and we couldn't be happier to be a part of it.  At the head of operations is master-jeweler Hideki, a truly skilled artist capable of making any customized, one-of-a-kind piece, and a proud addition to the team.
Please feel free to visit the new site at http://www.traxnyc.jp  It is modeled after the original, so it's easy to navigate and very user friendly.  We are truly excited about this new development and we couldn't wait to share it with all our customers and followers.  TraxNYC is on the way to becoming a global brand and we could not have done that without your support.   Thank you, and let's keep moving forward.