Music has long been known as force capable of shaping the wider culture of the world around us. Back in the fifties and sixties, rock and roll music was responsible for destroying social taboos and breaking down the barriers of race, leading to a new era of hope, growth and openness.
But think of what else it did too. With rock music came tons of fashion trends, from long hair to drainpipe jeans. Put simply, what we wear and how we look is influenced by the music we listen to, whether we realize it or not.
The pattern we saw with rock music has since been repeated variously, but never so preeminently as with hip hop music. Just as with rock music, hip hop has influenced both our society at large and our culture at large.
Socially, early hip hop sought to draw attention to those areas of American society that were being forgotten about under the government of Ronald Reagan, as the rich grew rich and the poor grew poorer. Arguable though it may be, we feel hip hop has had its biggest impact in a cultural sense. That's where hip hop jewelry comes into the equation.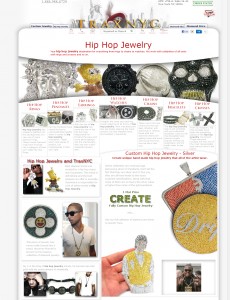 The rise and rise of hip hop music has pushed hip hop jewelry from being a minor niche product all the way to the top of the jewelry game. From there, the cycle of creativity, innovation and influence has continued, as hip hop jewelry itself has gone on to become the chief trend setter for the entire diamond jewelry industry.
This has been seen most recently with the case of black diamond jewelry. Jay Z was seen wearing a black diamond Jesus piece at the 2010 VMAs – next thing you know it has become a hip hop jewelry phenomenon. But it didn't stop there as the black diamond idea seeped its way into the collections of the world's biggest jewelry brands, becoming a huge fashion trend worldwide, with its popularity reaching all the way up to the higher echelons of society.
To acknowledge the continued success and popularity of hip hop jewelry, we have upgraded our Hip Hop Jewelry section. Now you won't just find all of the best jewelry in the game, but you'll have access to a ton of information, stories and anecdotes related to the hottest hip hop trends from the past all the way through to the present day.
Before you buy, educate yourself on the long and illustrious history of hip hop and its phenomenal cultural influence. For more information and images of iconic jewelry than you can handle, from Hip Hop Pendants to Hip Hop Watches and beyond, you need to get on to the new TraxNYC Hip Hop Jewelry page.