Last Thursday one of our most ambitious custom jewelry projects to date finally reached completion as we handed it over to our delighted customer in-house. We would like to introduce this piece to all of our blog-readers today: The Jordan Pendant by Custom Jewelry at TraxNYC.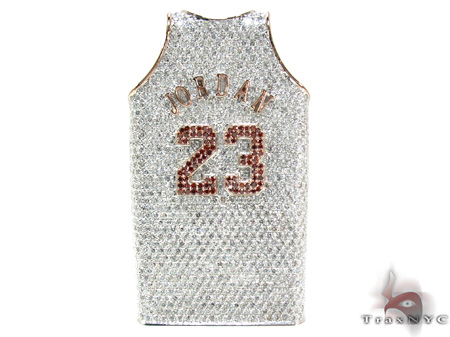 This piece is inspired by Michael Jordan's iconic Chicago Bulls jersey when he was at the peak of his powers. The number 23 jersey was worn by Jordan during his first stint with the Bulls before he 'retired' only to return again a year and a half later. He wore the number 45 on his return, but soon switched back to 23 as people began to doubt that he was as good as he used to be. He soon proved them wrong and cemented his place as the best player ever to grace a basketball court.
The stunning diamond Jordan Pendant is fashioned from the finest 14k white gold which is set with an eye-popping 28.50 carats of glistening SI1 stones. The G and red diamonds emit a radiance that has to be seen to be believed. The custom cage on this pendant is also one-of-a-kind, made especially for our customer who is a former boxer. With TraxNYC Custom Jewelry you too can have your piece made to your specifications with whatever custom designs you desire.
TraxNYC's revolutionary five-step custom jewelry process helps you create the most incredible pieces for the lowest prices. We will guide you through every step of the process to ensure that the end result surpasses your wildest expectations. Stay tuned for our Jordan Pendant video where you will see just how happy our customer was to get his hands on this amazing custom diamond pendant from TraxNYC!