TraxNYC is the biggest name in the world of online hip hop jewelry and diamond jewelry. We have one of the largest inventories of ladies and mens jewelry on the planet. Today we will look more closely at our mens jewelry and hip hop jewelry and we will highlight for you some of our top holiday deals. We cherish our loyal customers here at TraxNYC and we want to reward you by making your Christmas shopping that little bit easier this year.
Our Mens Holiday Deals have created quite a stir in the diamond jewelry industry since we unveiled them last week. Our competitors simply cannot offer you these top quality pieces at these kinds of prices. We have diamond chains, diamond watches, pendants, rings, you name it – all with their prices slashed beyond belief. Today we will look at a couple of these mens jewelry items that you may want to put in your mans Christmas stocking this festive season.
Our Polar Iced Diamond Chain is definitely one of our hottest hip hop jewelry holiday deals. 16.35 carats of magnificent round cut diamonds that are SI1 in quality and G-H in color. The stones are handset by the most talented jewelers in the NYC Diamond District into a prong setting across a solid 10k white gold frame. This is a superb mens diamond chain and an example of hip hop jewelry at its finest. It is a piece of diamond jewelry that will captivate you from the very first moment you see it. The stones glisten like nothing else in this price range. And right now it's going for nearly HALF PRICE – was $6800, now $3950 – so don't miss out!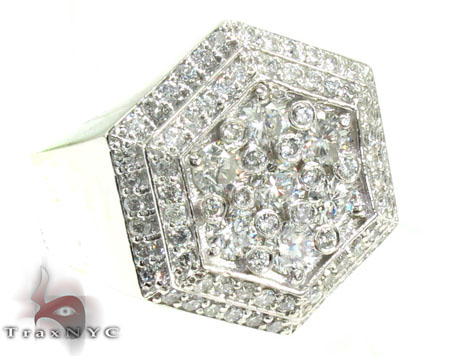 Iced out diamond watches will always be a popular hip hop jewelry staple. And we have one of the most awe-inspiring collections imaginable here at TraxNYC. We have a number of great diamond watches on sale this holiday season, one of which is the 8ct Joe Rodeo Junior JJU20. The Junior JJU20 is new to the Joe Rodeo watch line up. It represents elegance and style and the large stones in its three-row bezel really catch the eye. This timepiece is one that all the superstars are wearing today. The diamond watch includes an original Joe Rodeo mahogany wood box, 2 extra bands and a warranty card. You will never get this watch at the price it is selling for right now: $2845 for 8 carats of SI quality diamonds – that's insane!
We are very passionate about our diamond jewelry at TraxNYC, we're sure you can tell. So you can be sure that our holiday deals are unmatchable, because we only want to provide our customers with the best deals and welcome them back as they return to us to buy their diamond jewelry time after time. Once you buy from Trax and realize the extent of the great deals we can offer you, you'll never want to be ripped off by the extortionist prices at other jewelry stores ever again.