Mens Earrings are a sensationally popular item here at TraxNYC. We have a reputation as hip hop jewelry specialists, having followed the rise of this diamond jewelry trend from its inception. We continue to do so today in order to ensure that we only have the freshest selection of mens earrings for our customers.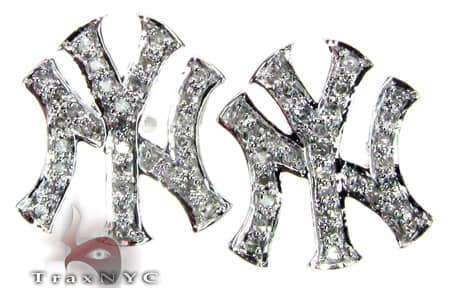 Our diamond jewelry is only of the finest quality, so naturally the same quality can be found in our vast collection of earrings. We are an ever-growing New York City Diamond District vendor with access to the finest diamonds from the most reputable sources and at the best prices.
Whether you are looking for a hip hop-inspired pair of pave bling earrings, a classy set of solitaire studs or a single diamond earring to flash at the club, we've got you covered. Our selection has proven itself to be unrivalled, and we guarantee you that you won't find better value anywhere else online or in stores.
For an example of the amazingly high quality mens earrings you can get at Trax without having to break the bank, check out one of our best sellers, the sick Black Diamond San Francisco Earrings. These have a stunning half carat weight and feature the finest triple A black diamonds, all for just $235. Black diamonds are always a great choice when you want real diamonds at a fraction of the white diamond price.
Check out our full collection of mens earrings today. If you know the best jewelry when you see it, we assure you that there is no way you can fail to be impressed with the TraxNYC collection!