At TraxNYC we are constantly creating exciting new custom jewelry. We are breaking down traditional creative boundaries in order to provide you with never-before-seen diamond jewelry and hip hop jewelry. And the best part is that when we design and create a sick new custom pendant or other piece of jewelry, we often choose to add that item to our diamond jewelry collection so that we can reproduce it and make it available to all of our great customers. We know that our customers only expect – and only deserve – the best.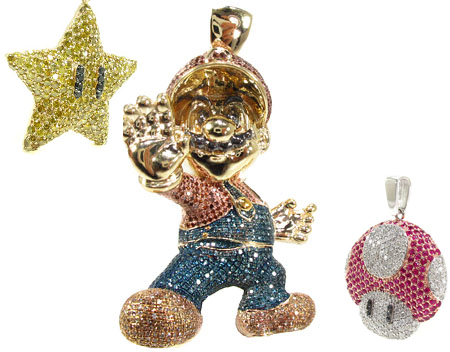 Today we are going to look at two such custom pendants. These are two amazing, iced out pieces that can deservedly be described as pop cultural sensations. They are part of the instantly recognizable iconography of the most successful video game franchise ever – the Super Mario series. We have iced them out in the form of these custom pendants to create two pieces of diamond jewelry that are incomparable to anything else out there today. We always strive to stay ahead of the curve here at TraxNYC.
Our new Diamond Star Pendant features an incredible 5.50 carats of round cut canary and black diamonds on luxurious 14k yellow gold. You will recognize it as the Star that grants Mario temporary invincibility in the classic video game series. And now it's looking better than ever with such a phenomenal diamond jewelry carat weight and an intricate pave setting. Want to bring a touch of invincibility to your diamond jewelry? Well then, you need this Diamond Star Pendant from TraxNYC!
Another Super Mario icon, the Super Diamond Mushroom Pendant has instantly become one of our favorite diamond pendants to date. In the games, the Super Mushroom causes Mario or Luigi to double in size and strength, allowing them to smash through bricks and take an extra hit. With a massive 5.75 carats of red, G and black SI1 intense sparkling diamonds, you will definitely feel like you are twice as tall when you are wearing this piece! So if you want to 'power up' your own diamond jewelry collection, get your Super Diamond Mushroom Pendant today.
These pieces are in stock just in time for the holiday season. You don't want to miss out on the opportunity to give these pieces as once-in-a-lifetime diamond jewelry gifts this Christmas. These pop culture icons have already proven that they will stand the test of time and, knowing that diamonds are forever too, you will always cherish these diamond pendants from TraxNYC.