We recently informed you of the background that lies behind hip hop jewelry, a type of diamond jewelry that TraxNYC specializes in. Hip hop jewelry can be considered as a long term trend in diamond jewelry. We are always keeping our ear to the ground here at TraxNYC to keep up with these trends and provide you with only the freshest diamond jewelry.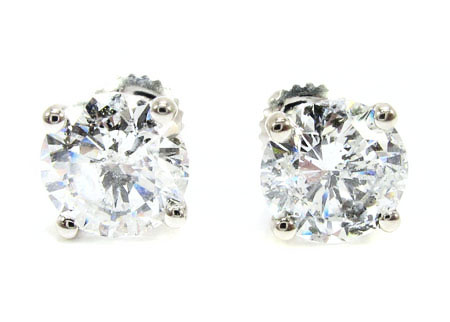 We've told you about a lot of what's hot out there right now – diamond watches, diamond bracelets, custom jewelry – but at TraxNYC we have so much more great diamond jewelry to offer to you. Whether it's diamond crosses, diamond rings, diamond chains, diamond earrings, anything; we've got it all here at TraxNYC and we've got it all for the best diamond jewelry prices available.
Diamond earrings are an astoundingly popular diamond jewelry accessory right now. At TraxNYC you can choose from our vast selection of paired diamond earrings and we also offer you the unique diamond jewelry opportunity to purchase single diamond earrings to achieve that particular hip hop jewelry look that is a huge trend right now.
Check out our diamond jewelry XL Solitaire Studs to see a shining example (excuse the pun) of the amazing standard of diamond earrings that we have available in our diamond jewelry showrooms. These diamond earrings showcase two huge 2ct round cut diamonds in a prong setting. Imagine yourself wearing these stones; they are a genuine example of the most stunning diamond jewelry out there.
If these massive diamonds are a little out of your price range, take a look at our pave set mens diamond earrings that are taking the diamond jewelry and hip hop jewelry scene by storm. These can come with round cut diamonds, princess cut diamonds or other cuts and are usually in a square pave setting. It is a huge hip hop jewelry trend, there is no doubt about that. You'll rarely find a hip hop star with out some iced out diamond jewelry sitting proudly in at least one of their ears!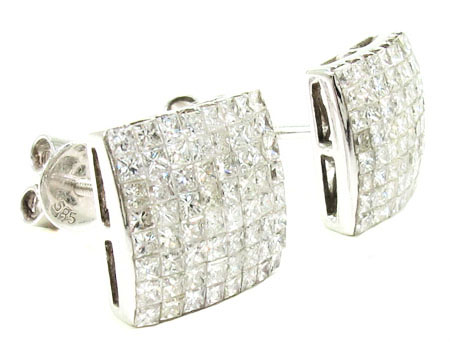 Stay tuned to TraxNYC for more news and updates on diamond jewelry trends. We always keep one eye on the latest and upcoming diamond jewelry trends so we can provide the freshest diamond jewelry to you at the best possible prices. Check out diamond jewelry at TraxNYC today.