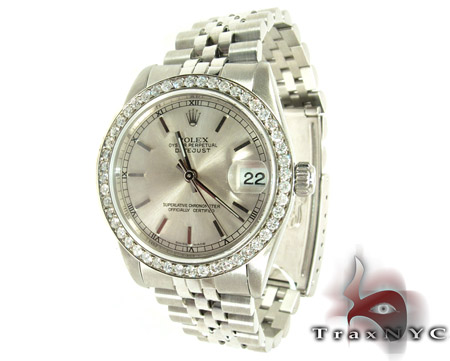 At Trax, we pride ourselves on carrying the best and largest selection of diamond and gold jewelry. Located in the heart of the diamond district in NYC, we have access to tens of thousands of iced-out pieces that you can't get anywhere else. And that includes luxury gold and steel Rolex watches.
Everyone's heard of the Rolex brand by now. It's iconic but simple, conveying a subdued class. Some connoisseurs, however, want a custom Rolex — sometimes with diamonds. Diamond Rolexes aren't made by Rolex but in the hands of a skilled jeweler. TraxNYC boasts some legendary jewelers, a few of which have personally worked with Rolex in Switzerland. By definition, diamond Rolexes cannot be sold "new" — jewelers adding diamonds changes that status to "Pre-Owned Customized." However, you can rest assured that no one has worn the watches out on the town: they are still like new, only with added diamonds.
The selection on our online store includes gold Rolex Day Date and DateJust models, steel Daytonas, and gold Yacht Master Rolex models. We carry one of the largest Rolex selections online and we are the premiere supplier of customized and diamond Rolexes. A buyer should only buy from retailers that stand behind their work and their product with warranties and great customer support. Additionally, it's important to know that only the best skilled jewelers are working on your Rolex — otherwise they could cause irreparable damage to the luxury watch.