TraxNYC is far from conventional when it comes to creating Custom Jewelry and fulfilling the requests of our customer's.  So when we were approached to create a BVLGARI men's diamond ring that was no longer being sold by BVLGARI, we immediately devoted ourselves to thoroughly sorting and selecting all of the materials that would work together to form a piece of jewelry as eminent as this one.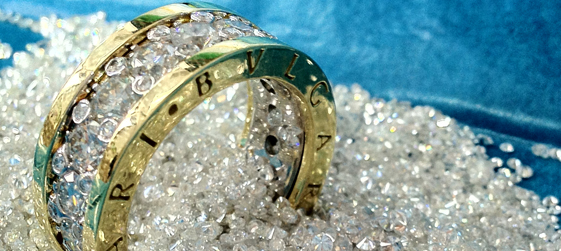 Click on the picture for the full size image.
This ring was crafted with the impeccable artistry and great precision of our jewelers. Two tone 18k Yellow and White gold – it contains 7.5 carats of white, round cut diamonds. This ring is absolutely flawless.  A ring such as this one adheres to our highest standards. For one to be fortunate enough to hold ownership of this ring speaks volumes. At TraxNYC we are confident that our expertise, as well as the remarkable craftsmanship of our jewelers is the reason why we are one of the best jewelry retailers New York City has to offer.

Start your custom project today, visit custom jewelry page.