Here at TraxNYC we are proud to say we have our first men's gay engagement bands available.
New York happens to be the largest state where gay and lesbian couples can legally wed. From the day The Marriage Bill was passed, here at TraxNYC, we knew we wanted to be part of such a revolutionary moment in time.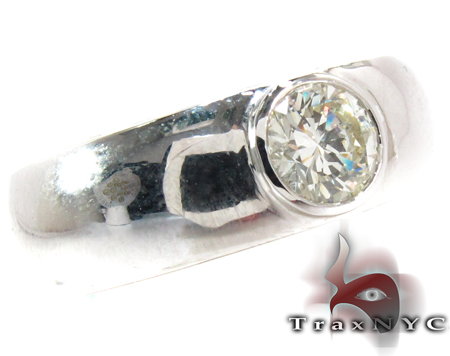 This Gay Marriage Wedding band is a custom creation that will leave you in awe.  This ring features a .80, G colored, round cut stone, in a bezel setting. The diamond sits so beautifully in the center of its 14k, white gold band.
This ring represents equality…all 8.70 grams of it!  It's the perfect ring to signify the bond between two men.
Here at TraxNYC we are partial to all that has been going on in terms of same-sex marriage. We are pioneers in the jewelry industry, one of the first jewelry retailers to create a custom ring specifically for same sex-marriage. This Gay Marriage Band is our first (of many) and we are pleased to make this ring available to you at an affordable cost!