Let's talk about rare diamond stones for a moment. If you were to take a guess as to which colored diamond was the rarest, which color would you guess? Blue? Canary Yellow? Red?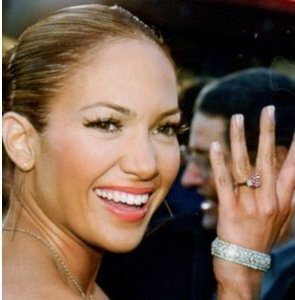 Remember when Jennifer Lopez was engaged to Ben Affleck and he bought her that massive 6.00 ct. Pink Diamond from Harry Winston that set him back a whopping $3 million. (BANANAS!)
At that moment if you had asked me if I thought pink was the rarest of rare diamonds, I would have responded with a loud shriek (because, um, who doesn't want to let out a shriek when they hear about someone getting a 6.00 carat, 3 million dollar ring?) followed by a 'yes'.
I would have responded 'yes' due to a lack of knowledge about diamonds. The ring itself was not $3 million dollars because the pink stone was so rare. Many factors play into the price of a diamond, like clarity, cut and of course the amount of carats. However pink is not the rarest color of diamonds, neither are blue, yellow or red.
For those of you who knew the right answer this entire time while I continued to ramble, take this time to pat yourselves on the back.
GREEN, ladies and gentleman! Green diamonds are the rarest diamonds that money can buy.
For a second, let's take a minute to go over why and how green diamonds are as rare as they are…
Through the process of radiation we are able to turn a simple white diamond into something as rare as a green diamond. Green diamonds originally start off as White Diamonds…can you believe it? I know, it seems a little out of the norm, but actually this is how colored diamonds are made…even J-Lo's pink diamond sparkler!
Unfortunately you never really know what you are going to get through the process of radiation. Yellow and blue are the most common colors you will come across. In order for a white diamond to turn into a green diamond by irradiation one is more than likely to go through 30.00 carats of white diamonds before one of them turns green. This being said, green diamonds are extremely hard to produce and when they are finally produced, chances are you're going to pay a hefty amount of money for these rare commodities – some can run  into the millions price range!
Did you know that over 15,000 pieces of jewelry we have on our website only six of those pieces are made with green diamonds?
Slimer for instance – 8.40 ct. of green, red and black round cut diamonds. If you were to find anything like this anywhere else, this pendant would run you upwards of $15,000. Here at TraxNYC we understand what it's like to want to set yourself aside from the others, to have something you know no one else is going to be able to acquire. This being said, we made this pendant not only affordable but attainable. But just because we made it attainable, it does mean everyone is going to own one. Because green diamonds are so rare we were only able to make a handful of these Slimer Pendants. So if you have green diamonds on the brain I suggest you invest in one ASAP!
Simply speaking, green diamonds are a rare treat they are never used to their potential. Here at TraxNYC we understand the value of green diamonds. So when we find them, obviously it makes sense that we collect them and use them to create gorgeous pieces of jewelry. Not many jewelers offer green diamond jewelry so if you're looking for something out of the ordinary here at TraxNYC is where you will it.