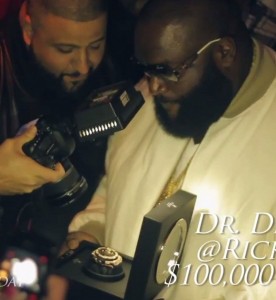 Earlier this year, Rick Ross, was given a small gift from the one and only Dr. Dre, Rap icon since his early days with the group NWA. Ross was elated to receive his gift (though the word gift may be an understatement). Dr. Dre presented Rick Ross with an iced out Hublot diamond watch, valued at $100,000, while partying at club Amnesia in Miami. With Hip Hop stars such as the aforementioned Dr. Dre, P. Diddy, Wiz Khalifa, Meek Mill, Wale, Jadakiss and Styles P, Rick Ross looked the part with all of his Hip hop jewelry (none more appealing than his new watch). Rick Ross arrived at his birthday bash wearing, inter alia, three humongous custom Jesus pendants.
Celebrities, especially hip hop celebrities, are changing the jewelry market before our eyes. Custom jewelry, custom pieces, large fully iced out watches, and diamonds chains is where high end jewelry is heading. The sheer value of these jewelry items will never decrease despite society's constant changes in style. Growing online jewelry markets, such as TraxNYC, not only feature hip hop jewelry but have recently entered the custom jewelry market with much client satisfaction.

For more hip hop/custom jewelry visit Traxnyc.com.