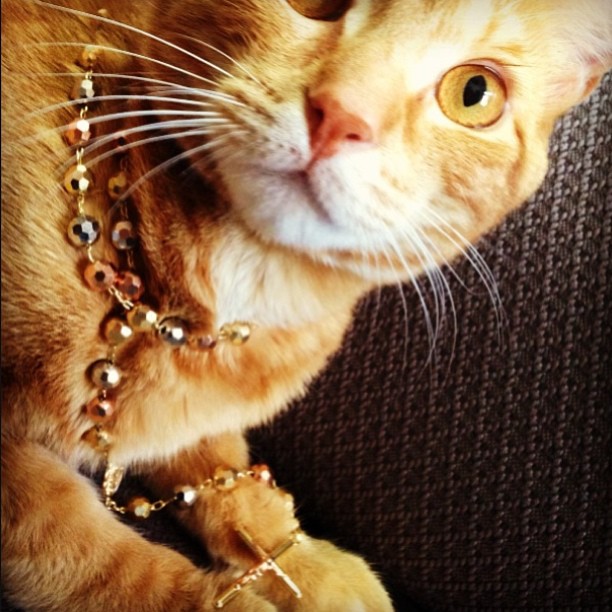 The use of the rosary to pray for peace and harmony dates back to the ninth century.  It was then used by Irish monks to recite and chant the 150 Psalms of the Bible as a major part of their worship and it is used today by men and women alike to allow keeping count of the numerous prayers that are to be recited; it has also come to be known as a highly private possession and is often worn around the neck as a necklace.
As such, TraxNYC not only offers an extensive selection of gold rosary chains for men, but also provides its customers the opportunity to create their perfect, custom rosary by choosing from a wide array of materials, color choices, stones and embellishments and weights. These choice decisions relate to the components that make up a rosary and include the following:
The chain – usually 8 inches in length
The beads – 59 in total, comprised of two categories; the 'Hail Mary's and the 'Our Father's
The loop, consisting of five decades – the part of the rosary that hangs around the neck
The centerpiece or the medallion – available in varied designs featuring Jesus, the Virgin Mary et cetera
The pendant – this is the single length of chain that hangs down from the centerpiece
The crucifix – an image of Christ on the Cross or just a plain Cross, hanging down from the pendant
Commonly made of wood, metals, stone, glass as well as some other amalgamation of materials, the rosary can easily be sported as a piece of jewelry when made of metals such as gold and silver. TraxNYC offers rosary chains for men that are both visually appealing and functional in terms of durability and usage. Silver, yellow gold and white gold are some of the options that are available on TraxNYC.
However, color choices are not limited to shades of gold and silver; black is usually a popular favorite as well as multi-colored rosary chains.
Fancy a diamond gold rosary chain? Those are also a part of the extensive options on offer at TraxNYC. Not just that — backed with ten years of experience in jewelry customization, TraxNYC specializes in customizing rosaries that fit the individual's requirements, so he/she can experience a closer attachment to their rosary.
Aside from the chain, choices can also be made regarding the beads, the medallion and especially the crucifix; size and dimensions, weight and detail in design are all factors that are considered by potential buyers.
TraxNYC brings together fashion and spirituality for the modern man in a broad selection of rosaries that allow the individual to experience faith and style at the same time.