You are exhausted and tired not to mention a little disheartened, its your and your twin sister's 16th birthday and you want to make it extremely special for both of you. You are planning to give her a gift that will tell her how special the bond is between you both – something that she will treasure for the rest of her life. But some how you still have not found that one thing which will bring happy tears to her eyes. You know that because you share an unspeakable connection with your darling sister since birth and if something does not excite you then you are sure it won't make her very happy too. However, there is something that is guaranteed to make your heart miss a beat with its sheer perfection and dazzle, something that will surely make your lovely sister speechless. Go ahead, give her the most stunning Diamond Bracelet and see the light of love shining in her eyes.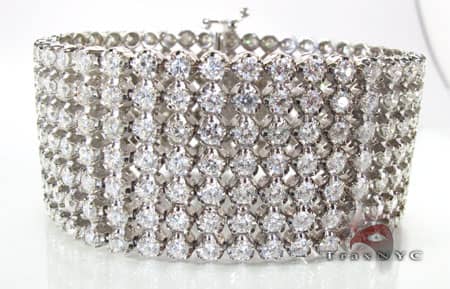 The stunning perfection of Diamond Bracelets makes them a hot favorite jewelry piece and gift item for special people and occassions. The eternal quality and earthy charm of these bracelets make them the best option for keepsakes and presents. However, you can always gift yourself a dazzling Diamond Bracelet as pampering yourself is also a necessity.
TraxNYC with its exhilirating collection of Diamond Bracelets for men as well as women is all set to set your senses on fire. With a Diamond Bracelet articulately and luxuriously set in gold or platinum band you will be the cynosure of every fashionista's attention. Our JoJino VTY-D05 Diamond Bracelet will hold you spell bound, not just with its beauty but also with its jaw dropping low price of $145.
Our NYC Diamond District location and diamond industry connections allow us to provide you the best jewelry deals and prices that are very difficult to find anywhere else. When it comes to Diamond Jewelry TraxNYC is your ultimate destination.