Sean 'Diddy' Combs is known throughout the hip hop world as someone that enjoys the finer things in life. So when it came to his son Justin's Sweet Sixteen birthday party he wanted to get the best Hip Hop Jewelry for him. That's why he chose to buy him a G-Shock Watch from TraxNYC.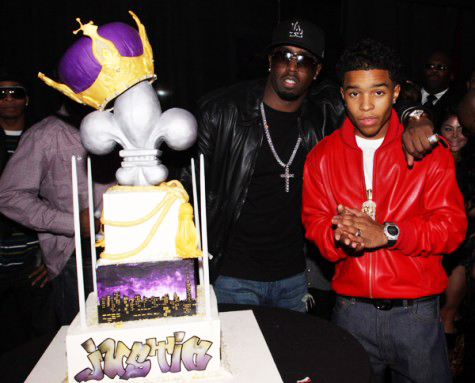 Justin's Sweet Sixteen was featured on the hit MTV show My Super Sweet Sixteen and was attended by some of the biggest names in Hip Hop Jewelry like Lil Kim, Nicki Minaj and Fabolous. No expense was spared. It was fitting then that Justin was wearing some of the hottest wrist wear on the market.
This wasn't the first time Diddy had gone all out on a birthday party. In 2008 he threw a similar Sweet Sixteen event for his step-son Quincy. Diddy clearly knows a thing or two about throwing a big name celebrity bash, and at TraxNYC we were happy to provide him with one of our freshest pieces of Hip Hop Jewelry for the occasion this time around.
TraxNYC is known throughout the Hip Hop Jewelry scene as a provider of some of the hottest Mens Diamond Watches. We take pride in the quality of our Hip Hop Jewelry and, as you can see from the picture, so does Diddy.
G-Shock watches are one of our favorite Hip Hop Jewelry items here at TraxNYC. Take a look at our 20ct White Gold G-Shock Illuminator and you'll see a good example of why they are so popular among Hip Hop Jewelry royalty like Diddy. The entire, fully customizable case is encrusted with stunning white diamonds or you can even choose your own diamond color. Customization is one of the things we hold in highest regard at TraxNYC. Check out our Custom Jewelry page to see more.
It's clear that TraxNYC is one of the most respected providers of Hip Hop Jewelry out there. In an age when people don't have as much money to spend on fine things like diamond watches, our customers still flock to us because they know they are getting the freshest Hip Hop Jewelry at prices that blow all of our competitors away — just ask Diddy.