Black diamonds are fast becoming the number one choice for people looking to own 100% genuine diamonds. Often much more affordable than regular white diamonds, these unique stones possess the same hardness and quality as the most expensive diamonds in the world. Our loose black diamonds are small but mighty, ideal to be incorporated into the bezel of a watch or a similar piece of diamond jewelry. These little stones represent a unique opportunity for you to become the owner of some genuine diamond specimens.
Apart from our loose black diamonds, we have a vast black selection of black diamond jewelry to choose from in our watch collection, as well as rings, bracelets, earrings – the list goes on. In fact, our black diamond jewelry is selling almost as fast as our regular diamond jewelry, with our black diamond watches being particularly sought after. Check out the limited edition Joe Rodeo TraxNYC Black Diamonds Watch for a perfect example.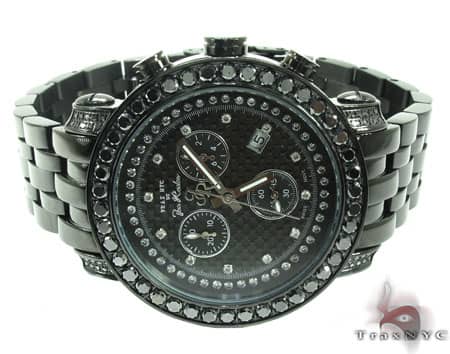 If you're purchasing loose black diamonds, we recommend that you purchase these diamonds in quantity for maximum effect and enjoyment. If you choose to do so, they can be incorporated into a custom piece at a later date such as a stainless steel watch or any other piece of diamond jewelry, like earrings or a bracelet. We are the Custom Jewelry specialists after all!
You don't want to miss out on the chance to own some genuine diamond jewelry for less. Diamonds are always going to hold their value, so this is undeniably a shrewd investment – you really have nothing to lose. Quantities are limited and they are going to go FAST, so get your Black Diamond Jewelry from TraxNYC now!