New York City Jeweler TraxNYC joins forces with NBC's America's Got Talent for 2014 Season and Season Finale Episodes at Radio City Music Hall. $180,000 Custom Diamond Rolex Sky Dweller Worn On-Air by AGT'S own Nick Cannon.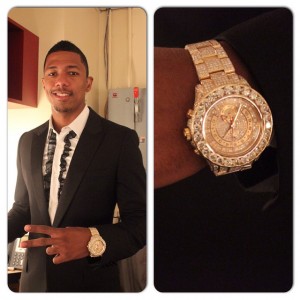 Currently the only piece of jewelry Nick Cannon wears on-air, for weeks, has been a series of custom timepieces directly from the New York Diamond District. America's favorite television host Nick Cannon has been spotted on NBC's America's Got Talent with exclusive diamond timepieces from celebrity jeweler TraxNYC. TraxNYC has been providing the star with custom wrist pieces in which he's sported over the course of twelve (12) episodes. For AGT's Season Finale episodes airing on September 16th and 17th, 2014, Nick will wear a Rolex Sky Dweller customized by the New York City Jeweler valued at $180,000.
Lou Santiago of TraxNYC personally delivered five (5) watches to Nick Cannon's America's Got Talent dressing room on Tuesday, September 9th, where Nick chose the custom Rolex in just under 30 seconds. The watch is detailed with a total of fifty five (55) total carats. Lou mentions, "What we do is help add sparkle and swag to Nick Cannon (America's Got Talent) as he adds spark to American viewers every week. TraxNYC is now a part of American pop culture."
The Diamond District continues to be the go-to for celebrities such as Floyd Mayweather and Scott Disick (known for their lavish and luxurious taste in jewelry) who frequent the historic district on 47th Street often. TraxNYC is a jeweler that has been accredited by street creditor, "Fake Watch Busta" for their detail and authenticity.
TraxNYC hopes to become America's Jeweler on America's Got Talent. In the heart of the Diamond District, the company's story is an American Dream itself. The CEO and founder is a 27 year old entrepreneur who is about to celebrate the company's 10 year anniversary on September 17th.