At TraxNYC we supply our customers with the most reasonably priced diamond jewelry on the market But sometimes you have to indulge yourself and buy a piece of diamond jewelry that would make the Queen of England turn green with envy. Today we are going to show you some of the finest pieces of diamond jewelry available at TraxNYC.
One of our diamond jewelry specialties is diamond chains. We hand select only the finest quality chains. And we guarantee you'll be satisfied with our high-end iced out diamond chains, like our dazzling 33 inch Hustler Chain. This amazing piece of diamond jewelry weighs 85 grams and features a jaw-dropping 52 carats of diamonds. Many people can only dream of ever even laying eyes on a diamond chain of this quality, but we've got it right here at the TraxNYC diamond jewelry showrooms in the heart of New York City's famous Diamond District.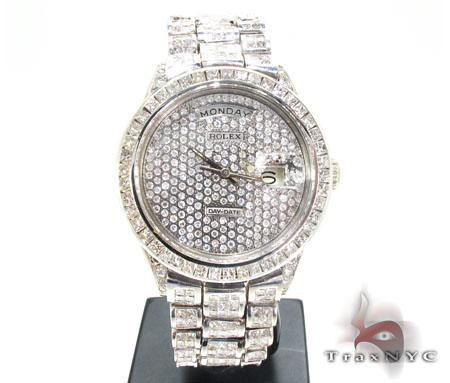 We've told you a lot about our collection of diamond watches, but there are some diamond jewelry masterpieces here at TraxNYC that we just can't get enough of. One of these is our new 50ct Fully Iced Rolex Watch. This is one of our hottest new diamond jewelry items and the highest commented on by far. It is, as the name suggests, completely iced out to perfection. This authentic Rolex holds 50.00 carats all around of VS and SI diamonds. It is built and covered in 18K gold. This is the only time you will see a genuine Rolex fully iced out for this price, it is normally priced at $66,000. So even when you buy our high-end diamond jewelry items you know that you are getting a great deal.
TraxNYC's collection of the finest womens diamond rings is unmatched by any other diamond jewelry merchant, whether online or in stores. Our inventory features 14K white, yellow and rose gold to fit anyone's preference. We work directly with the best jewelry manufacturers in the NYC Diamond District and therefore can offer you the best possible price on any diamond jewelry item. Check out our First Lady Ring 2. It showcases an unbelievable 9.24 carats of SI and V quality diamonds in a combination of pave and prong settings. This piece of diamond jewelry really will make you feel like the First Lady!
That's your TraxNYC diamond jewelry showcase. Impressed? Check out our diamond jewelry online or visit our showroom and pick up a piece of diamond jewelry that you will cherish forever.