Diamond Hoop Earrings
Nov 26, 2010

Hoop earrings are one of the most ancient forms of jewelry known to man. They can be dated back to ancient Persia and biblical times. It is a testament – if you'll excuse the bible pun ­­– to their timelessness that hoop earrings are as popular as ever today.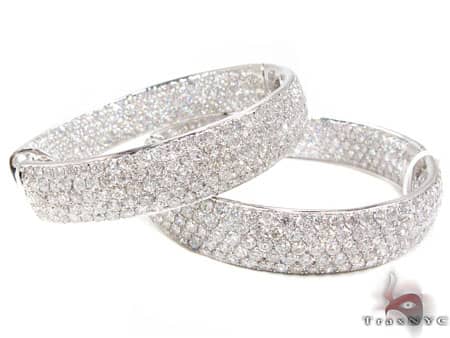 With us being famed diamond jewelry specialists here at TraxNYC, we are top purveyors of the most excellent Diamond Hoop Earrings. Our NYC Diamond District location and diamond industry reputation allows us to provide you with this diamond jewelry at near-wholesale prices that will beat the prices of all our competitors every time.
At TraxNYC we have some magnificent specimens of Diamond Hoop Earrings. You need to check out our Iced Bangle Earrings. They have a 1.5 inch diameter composed of the finest 18k white gold. Amazingly, this relatively small area is painstakingly pave set with 12 carats of near-flawless VS diamonds. And the most amazing part? You can get these Diamond Hoop Earrings from TraxNYC for under $10000, where as they would cost you at least $25000 anywhere else.
Another fine Diamond Hoop Earrings example are the Gold Pave Earrings. This 1.5ct beauties are much less expensive than the Iced Bangle Earrings. In fact you can get these great Diamond Hoop Earrings for just $915! That's an amazing value for Diamond Hoop Earrings that feature 14k yellow gold and sparkling SI1-VS2 diamonds.
You can see that we have Diamond Hoop Earrings to suit all budgets here at TraxNYC. Please don't pay exorbitant, extortionist prices at jewelry stores or on other websites – we promise you that you won't get a better deal on the best jewelry than here at TraxNYC.