Hip Hop Bracelets
Hip Hop Bracelets are some of the most recognizable creations in hip hop jewelry history. Favored by the biggest rap superstars of today and yesteryear alike, iced out bracelets grab your attention in a manner that nothing else really can. Learn all you need to know, right here right now.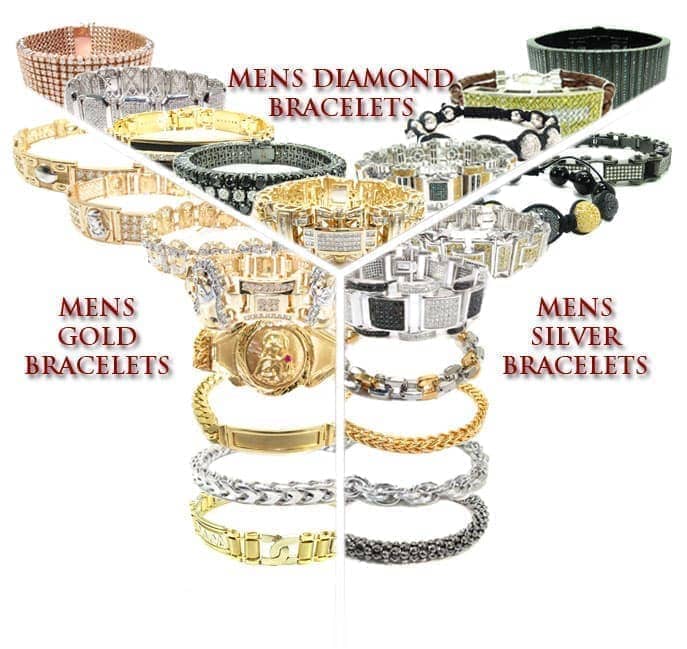 This item is a bracelet that belongs to the family of "Toni" jewelry. The "ten row" part is self-explanatory, but we'll explain anyway: It has ten rows of diamonds! That's why it's called the 10 Row Toni Bracelet. The Toni name is associated with all jewelry made by combining four prong discs with diamonds.

Sky rocketing gold prices have got manufacturers of Hip Hop Bracelets thinking creatively these days. This bracelet replaces gold with something a little less expensive: rope. Our first impression was that this would go nowhere, but surprisingly the style has taken the hip hop jewelry industry by storm. Read on to find out why.

The black diamond hip hop jewelry trend has seeped its way into bracelets, as it has done with all other jewelry. This is a handmade bangle with expertly assembled moving parts. The most important part of a bracelet like this is the lock, which has to be smooth or it will fail over time. Too many bracelets have been lost and broken because locks are made poorly.

Don't forget about huge gold bracelets, one of the original stars of the hip hop jewelry scene. The best thing about these is the fact that they can be custom iced out later. Nothing is better than a tight Miami link, even without diamonds. But at today's gold prices there are only a few left in circulation, sad to say.

OUR MERCHANDISE IS 100% GUARANTEED AS DESCRIBED OR FULL MONEY BACK
OUR MERCHANDISE IS 100% GUARANTEED AS DESCRIBED OR FULL MONEY BACK