Hip Hop Crosses
In this section you will find a concise history of Hip Hop Crosses, expressed through the description of four pieces from our extensive hip hop jewelry repertoire. If you've yet to truly appreciate Hip Hop Crosses for what they are, then this will convert you for sure.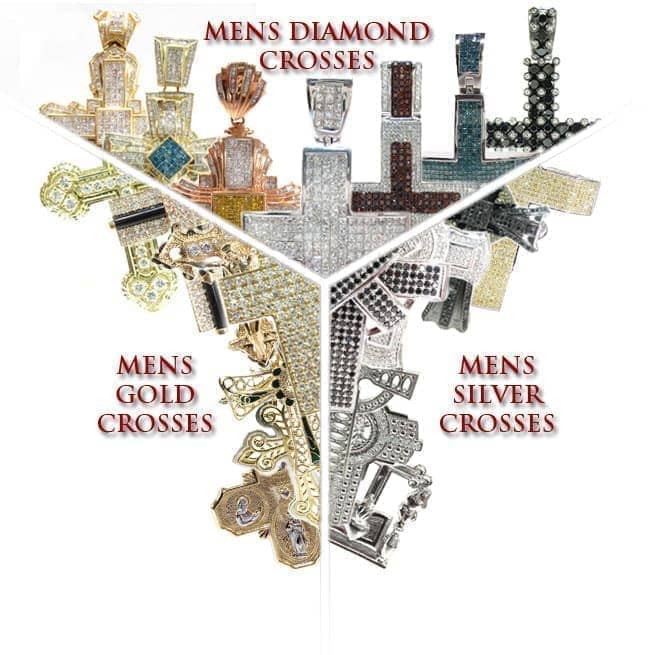 In hip hop jewelry a simple cross can be adorned with anything from snakes and skulls to guns and shields. This Hip Hop Cross is an example of such a combination, and shows why pieces like this are referred to as "hip hop". You simply cant mix eagles with Christianity anywhere else.

This cross is an ancient dinosaur, a hip hop jewelry fossil from an era long gone. It hails from a time of low gold and diamond prices which were combined with a world class economy - only in such an environment could hip hop monster crosses be forged. We are unlikely to see one of these Hip Hop Crosses roaming the earth again,

There was a time when rosaries were modest, inexpensive pieces, existing solely for religious purposes. But hip hop jewelry has re-imagined them, essentially developing a combination of the Hip Hop Cross and chain together in one piece. They are now considered to be the best way to get detailed artistic form out of simply diamond jewelry.

OUR MERCHANDISE IS 100% GUARANTEED AS DESCRIBED OR FULL MONEY BACK
OUR MERCHANDISE IS 100% GUARANTEED AS DESCRIBED OR FULL MONEY BACK