Hip Hop Earrings
Hip Hop Earrings come in all shapes and sizes. It's this kind of variety that sets them apart from standard diamond earrings. There are no design restrictions when it comes to hip hop jewelry. Just check this selection out and you'll see what we mean. The possibilities are limitless.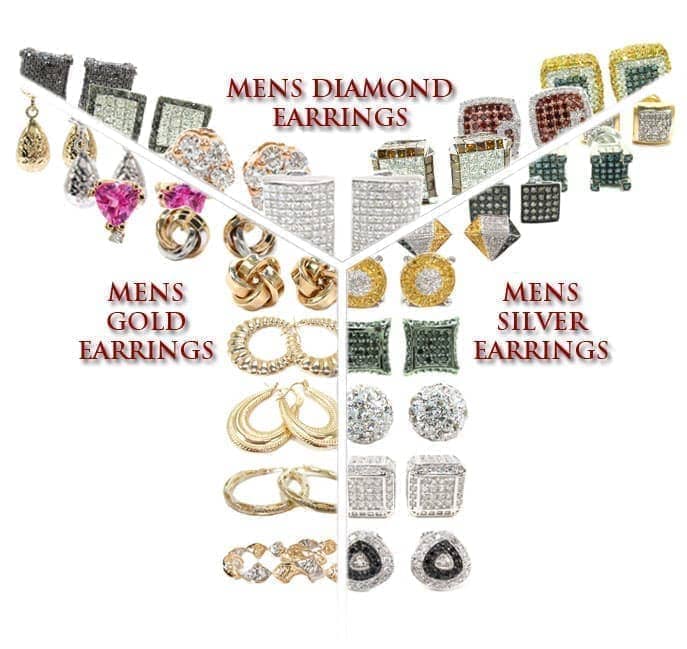 When it comes to Hip Hop Earrings, the definitive style you need to be aware of can be seen in this large invisible earring set. These monster diamond earrings are serious attention grabbers, and you can see why right here. It has long been said by those in the know that the invisible setting is the cleanest way to dress your ears.

To get the biggest bang for your buck, we recommend going large with these black diamond studs, dressed up by white diamonds all around. Black diamonds in large sizes are incredibly under-priced in today's market. Using this to your advantage, you can put a 2 carat rock in each ear and adorn it with 1 carat of VS white diamonds, all for around $1,500.

The classic kite shape combined with an invisible setting is a trend that has been strong in the Hip Hop Earrings sector - even without celebrity endorsement - for over a decade. The reason for their success lies in the fact that square diamond earrings get boring, but any other shape may be too flashy. That's why the kite has prevailed as a Hip Hop Earring superstar.

The diamonds stud is iconic, but its roots lie in a style that is by no means exclusive to Hip Hop Earrings. In fact it has been around for over 100 years. However, today these earrings are living it large on the hip hop jewelry scene with all the stars wearing them. Read on to see how hip hop jewelry has revolutionized the diamond stud look.